Blog
Greetings, Dreamers!
I wanted to take a few moments to fill-you-in about some important changes taking place at the tasting room regarding our wonderful staff. Being members of our extended family, many of you have gotten to know Maegan Kohn over the past two years. Maegan has been an absolutely indispensable presence on our team as tasting room manager, event organizer, administrative miracle-worker, frequent hostess behind the bar, and all-around Wonder Woman! I don't know what I would have done without her as we worked to build the "business" of Dawn's Dream in so many exciting facets, striving to bring all of you the best customer-service experience possible and keep you coming back for more. Maegan's professionalism and wonderful disposition have been treasured assets to all of us, and we hope you feel the same way about her.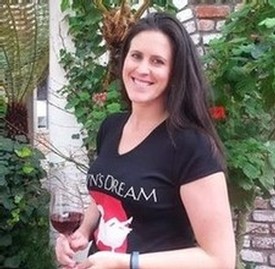 All of this, of course, makes saying "Goodbye" a bittersweet proposition! Maegan is, in fact, leaving us this coming Monday to pursue a "can't resist" endeavor in the wine industry in Morgan Hill. I'm sad to see her move on, but as a woman who has been in business on my own for over twenty years, I know quite a bit about the ebb and flow of the working world. It's a natural and necessary part of achieving personal opportunity and growth in our great country, whenever we see friends and associates open new doors, meet goals, or accept new challenges and keep on reaching for the very best. I am thrilled for Maegan and her new adventure, and wish her all the success in the world, knowing she'll be a big hit because I have seen how diligently she strives for excellence.
Please join me in wishing her a fond farewell and, if you happen to be in town, don't hesitate to drop by the tasting room over the weekend and extend your wishes to Maegan, personally. It will be difficult for anyone to fill her shoes, but I'm pleased to announce that the search for a new Manager for our Sales, Tasting Room and Administration is officially "on" and the prospect of meeting new, eminently qualified individuals and aspirants is an adventure for me, too.
In the meantime, thanks to all of you for taking those valuable moments to keep dreaming along with us in the ever-changing, wonderful, WINE-ful world!
Cheers,
Dawn Galante

Recent Posts
March 10, 2017

(2220 Comments)

November 9, 2015

May 8, 2015

(2 Comments)

April 20, 2015

April 11, 2015
Blog Categories
Blog Archives
Recent Posts
March 10, 2017

(2220 Comments)

November 9, 2015

May 8, 2015

(2 Comments)

April 20, 2015

April 11, 2015
Blog Categories
Blog Archives