Blog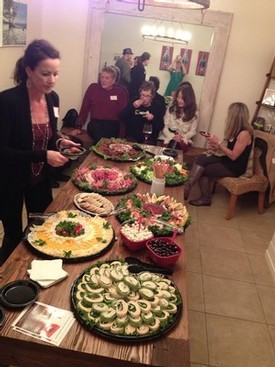 As we approach the one year anniversary of our new tasting room space in Carmel, we have begun to reflect on this past year's successes, changes, events, and all of the friends and club members we have met along the way. While we cannot pick one single event or occasion as our favorite, we can say that our private holiday, corporate and special occasion events have been the most rewarding. We have hosted birthday parties, wedding showers, private meetings, corporate holiday parties and much more. Each event has been so unique with their own decorations, catering, music, and more that the staff looks forward to the events just as much as our guests.
The next time you are looking to book a private space for an event, be sure that Dawn's Dream Tasting Room is at the top of the list. Click here to read our most recent reviews on Yelp, including a 5 star review from Natalie B., a young bride who hosted her wedding rehearsal at our tasting room the night before her wedding.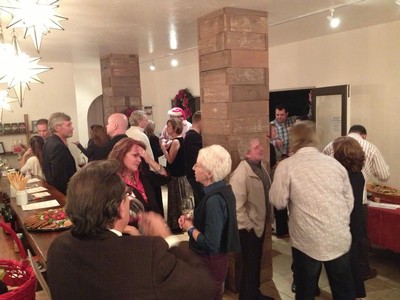 We have incredibly low rates, are very flexible with catering and decoration options, and offer discounts on multiple case purchases of our wines. Call the sales office today for more information or to book your next event with us TODAY at (831) 659-2649.
Luxury Holiday Wine Packages
As the holiday season swiftly approaches, we hope you will consider giving the gift of Dawn's Dream. We have created 1 and 3 bottle holiday packages including gourmet chocolates, Dawn's Dream retail favorites, and other holiday goodies. All wine packages are available for pickup at our tasting room or we are happy to ship them to your friends and family. A personalized message can be included with all holiday packages.
If our basket options are not exactly what you need, contact us to create a custom luxury wine basket by simply calling us at (831) 659-2649. We can include any of our wine, retails items, gift cards and more!
*These special holiday packages will only be available until the end of December.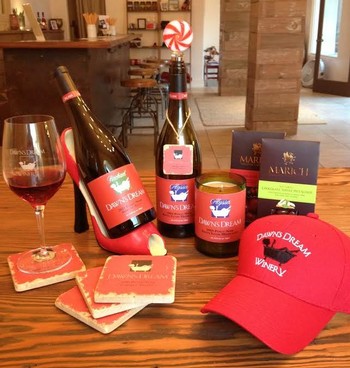 "Dream a Little Dream" Package - $65
-1 bottle of Dawn's Dream Wine (your choice)
- Vino Salami & Gourmet Crackers
- Dawn's Dream Custom Corkscrew
- Box of Marich Chocolates
- Dawn's Dream Custom Wine Bag

"Living the Dream" Package - $165
- 3 bottles of Dawn's Dream Wines (your choice)
- Vino Salami & Gourmet Crackers
- Dawn's Dream Custom Corkscrew
- Wine Sunglasses
- 2 Dawn's Dream Stone Coasters
- 2 boxes of Marich Chocolates
- Dawn's Dream Custom Wine Bag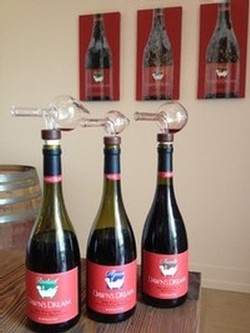 Create your own custom wine package or add any of the following items to our specially priced packages above:
- Women's T-shirts
- Wine bottle soy candles
- Dawn's Dream Ball Caps
- High Heel Wine Bottle Holders
- Holilday Napkins & Wine Bags
- Dawn's Dream Christmas Ornaments
- Cork Keychains
- Holiday Wine Bottle Stoppers
- Gourmet Chocolates
- All Dawn's Dream wine varietals & more!
**Order 5 baskets or more and receive a 15% discount. A perfect option for corporate groups or large family gift items!
More Holiday Gift Ideas from Dawn's Dream
Dawn's Dream Gift Cards
Do you have a special someone that is a wine lover, but you're unsure which wine to pick?? Give a Dawn's Dream Winery gift card and let them taste and select their favorite varietals. Gift cards are available in denominations of $25 and $50. Gift cards can be purchased online, over the phone or at our tasting room and can include a personal gift message.
Dawn's Dream Wine Club Membership
Dream Team Wine Club memberships make wonderful gifts. Your recipient will receive all the benefits of membership, including semi-annual wine shipments, wine discounts and complimentary tastings at our fabulous tasting room in Carmel. To create a membership, contact us directly at (831) 659-2649 or visit us at our tasting room.
Additioanl Gifts
We encourage you to visit our tasting room where we have a holiday selection of jewelry, Dawn's Dream logo retail items, wine themed gifts, clothing and more! Our tasting room is open everyday from 1-6 pm and Saturdays noon-6pm.
The latest issue of the Dawn's Dream Tribune has been released and it is full of thrilling updates and information. Dawn's Dream Tribune is something our members and wine enthusiasts alike look forward to every quarter. If you would like to be added to our mailing list, please contact Maegan today and stay up to date with our events, wine releases, and unique, seasonal food & wine pairings. Please follow this link to enjoy the latest issue of our Tribune - Octobe 2014.

Dawn's Dream would like to send a big thank you to Josie Cowden, a Proofreader and Wine Editor for Good Times, a local Santa Cruz newspaper, for her kind words and fun review in their most recent edition. After sampling our full wine flight, she and her husband purchased our 2013 Pinot Noir Rosé to pair with their delectable meal at Favoloro's Italian Restaurant in Pacific Grove. Please enjoy the article and let us know what fun pairings you have tried with any of our Dawn's Dream wines.
JDRF exists for the millions of children, adults, and families challenged by type 1 diabetes (T1D) every single day. Their determination to overcome this disease strengthens ours to end it. T1D is an autoimmune disease in which a person's pancreas loses the ability to produce insulin — a hormone essential to turning food into energy. JDRF is uniquely positioned to advance these therapies through the research pipeline and create the promise to better treat and, one day, even prevent and cure T1D. But we can't do it without you.
This year's walk will be held on Sunday, October 12 at Lover's Point in Pacific grove from 9:30-11:00 am. Dawn's Dream Winery has formed a team appropriately named "The Wine Walkers" and we would love your support.
You can join Dawn's Dream in support of JDRF n one of two ways:
- Donate online TODAY! - Our team goal is $500!
- Contact Maegan to join "The Wine Walkers" team and participate at the event!
**The walk is short and simple for all ages and abilities**
For more information, to make a donation, or to register a team of your own you can visit the JDRF Website.
By participating in JDRF Walk, your fundraising efforts ensure that JDRF can continue funding critical T1D research. With your support, this research will continue to bring us closer to a world without T1D. Together, we can walk to the finish. And turn Type One into Type None.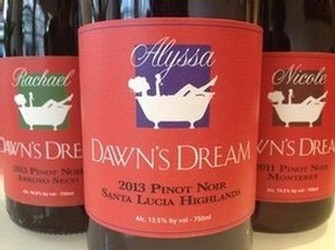 At Dawn's Dream we have worked hard to build a reputation of elegant and approachable wines, with a large focus on Pinot Noirs. While all of our wines have been popular with wine enthusiasts and club members alike, nothing has been as warmly received as our "Trilogy of Sisters" Pinot Noirs - Rachael, Alyssa and Nicole.
With our older vintages selling out before our eyes it was hard to keep the complete trilogy available in our tasting room. But now they are all back in action and range in vintages from 2011 to 2013. Visit us in the tasting room today to pick your favorite sister or fall in love with all three...I know we have!
2013 Rachael Pinot Noir - 100% Arroyo Seco - Alc. 14.0%
2013 Alyssa Pinot Noir - 100% Santa Lucia Highlands - Alc. 13.5%
2011 Nicole Pinot Noir - 50% SLH and 50% Estate - Carmel Valley - 13.2%
Unable to visit us at our tasting room? Purchase the entire trilogy online and your wines will arrive ready to sip and savor in a few short days!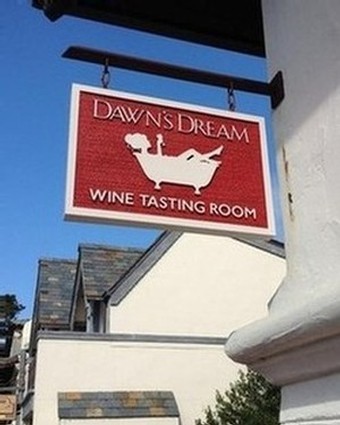 Surrounded by world renown landmarks and cities up and down the California coastline, Carmel-by-the-Sea has been a quiet and quaint town on the road less traveled along the Central Coast. UNTIL NOW! Conde Nast Traveler has just released their "10 Best Small Cities in America" and Carmel-by-the-Sea came in at #2. These rankings were produced from Conde Nast Traveler readers who are globetrotting, travel specialists. Move over Pebble Beach and San Francisco, Carmel-by-the-Sea is the new celebrity in town and proud of it. If you are a local, you are already familiar with the charm and enchantment that our town possesses with the windy stone streets, hidden boutique shops, and delightful tasting rooms to fuel you throughout your eventful day. However, if you have not had the pleasure of visiting our small yet remarkable town you must come and experience it for yourself. In between your beach walks and art gallery strolls, be sure to visit us at Dawn's Dream Winery for a glimpse of why this town was not only voted #2 of America's greatest small towns but why it was also voted as a Top 10 Wine Destination.
NW Corner of 7th & San Carlos - (831) 659-2649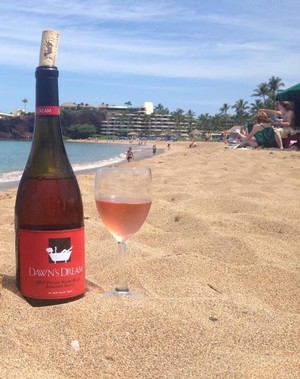 Anyone that has ever spent some time on the Monterey Peninsula has heard of the "June Gloom". Locals have adopted this term for the typically cool, foggy, and truly gloomy months of Summer in the Monterey Bay Area. The arrival of the Summer Solstice is not usually cause for much celebration. However, here we are on the last day in June and we are still awaiting for the "Gloom" to make an appearance. While we cannot complain about the warm, sunny days here in Carmel, we are still adjusting to our wine club members and new guests visiting our tasting room with a golden brown glow and tan lines from their sunny day at Carmel Beach.
The typical question "is it usually this cold here?" has been replaced with "do you have any chilled wine we can take to the beach?" Thank goodness we have recently released our second vintage of Chardonnay because our summer friendly wines are flying off the shelf! While Pinot Noir is our flagship wine and our most award winning varietal, it is very rewarding to see in these warmer months how well our new Chardonnay and Rosé wines are being received. Several individuals come in proclaiming that they "do not drink Rosé" and end up walking out with a case of it for their next family BBQ.
There is nothing better than a cold glass of wine on a hot day, especially when it is enjoyed in front of a fan with gourmet cheese and great company. Visit us at our tasting room this week for just that! Come sample our full wine flight and select the best wine for your beach bonfire tonight.
Thank you to WineBusiness.com for writing such a vivid and informative article about our recent adventures at our new tasting room and the 5 gold medals we received in San Francisco. Please click here to enjoy the article and let us know what you think...cheers!
Looks like Dawn's Dream has hit the bulls-eye! We are overjoyed to share recent news of our success at the 12th Annual Pinot Noir Shootout, the most comprehensive and focused tasting of Pinot Noir in the US. In our first time submitting wines to this prestigious event, we were honored to stand alongside 450 of the best and brightest Pinots in the country.
In the end, ALL FIVE of our fantastic Pinot Noirs received the highest honors of the Gold Medal. Thanks to our wines, we have been invited to participate on March 9th in the San Francisco Pinot Noir Summit taking place at the Golden Gate Club. We invite all of you to join us for this indulgent event on Sunday, March 9th. You can purchase tickets and see the full list of award winners on their website at Pinot Noir Summit.
All of us here at Dawn's Dream Winery would like to extend our deepest thanks to the organizers, judges, and our fellow Pinot professionals who, together, allowed this year's Pinot Noir Shootout to be such a glimmering success. We look forward to representing the Pinot Noir varietal for years to come at this fine competition.
You know you want to
Sign Up Here...
to receive the latest news, information on new releases,
as well as special offers just for those on our list.
*We never share your information with anyone!