Blog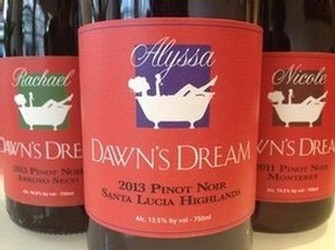 At Dawn's Dream we have worked hard to build a reputation of elegant and approachable wines, with a large focus on Pinot Noirs. While all of our wines have been popular with wine enthusiasts and club members alike, nothing has been as warmly received as our "Trilogy of Sisters" Pinot Noirs - Rachael, Alyssa and Nicole.
With our older vintages selling out before our eyes it was hard to keep the complete trilogy available in our tasting room. But now they are all back in action and range in vintages from 2011 to 2013. Visit us in the tasting room today to pick your favorite sister or fall in love with all three...I know we have!
2013 Rachael Pinot Noir - 100% Arroyo Seco - Alc. 14.0%
2013 Alyssa Pinot Noir - 100% Santa Lucia Highlands - Alc. 13.5%
2011 Nicole Pinot Noir - 50% SLH and 50% Estate - Carmel Valley - 13.2%
Unable to visit us at our tasting room? Purchase the entire trilogy online and your wines will arrive ready to sip and savor in a few short days!
You know you want to
Sign Up Here...
to receive the latest news, information on new releases,
as well as special offers just for those on our list.
*We never share your information with anyone!