Blog
Luxury Holiday Wine Packages
As the holiday season swiftly approaches, we hope you will consider giving the gift of Dawn's Dream. We have created 1 and 3 bottle holiday packages including gourmet chocolates, Dawn's Dream retail favorites, and other holiday goodies. All wine packages are available for pickup at our tasting room or we are happy to ship them to your friends and family. A personalized message can be included with all holiday packages.
If our basket options are not exactly what you need, contact us to create a custom luxury wine basket by simply calling us at (831) 659-2649. We can include any of our wine, retails items, gift cards and more!
*These special holiday packages will only be available until the end of December.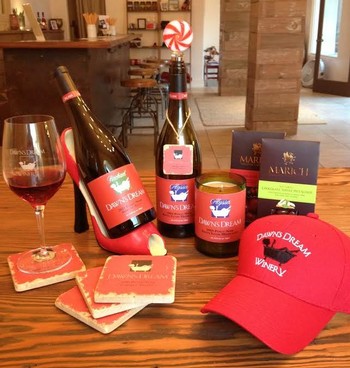 "Dream a Little Dream" Package - $65
-1 bottle of Dawn's Dream Wine (your choice)
- Vino Salami & Gourmet Crackers
- Dawn's Dream Custom Corkscrew
- Box of Marich Chocolates
- Dawn's Dream Custom Wine Bag

"Living the Dream" Package - $165
- 3 bottles of Dawn's Dream Wines (your choice)
- Vino Salami & Gourmet Crackers
- Dawn's Dream Custom Corkscrew
- Wine Sunglasses
- 2 Dawn's Dream Stone Coasters
- 2 boxes of Marich Chocolates
- Dawn's Dream Custom Wine Bag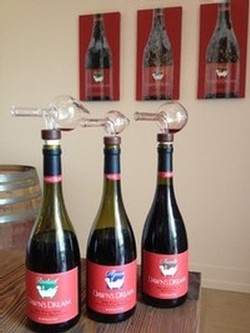 Create your own custom wine package or add any of the following items to our specially priced packages above:
- Women's T-shirts
- Wine bottle soy candles
- Dawn's Dream Ball Caps
- High Heel Wine Bottle Holders
- Holilday Napkins & Wine Bags
- Dawn's Dream Christmas Ornaments
- Cork Keychains
- Holiday Wine Bottle Stoppers
- Gourmet Chocolates
- All Dawn's Dream wine varietals & more!
**Order 5 baskets or more and receive a 15% discount. A perfect option for corporate groups or large family gift items!
More Holiday Gift Ideas from Dawn's Dream
Dawn's Dream Gift Cards
Do you have a special someone that is a wine lover, but you're unsure which wine to pick?? Give a Dawn's Dream Winery gift card and let them taste and select their favorite varietals. Gift cards are available in denominations of $25 and $50. Gift cards can be purchased online, over the phone or at our tasting room and can include a personal gift message.
Dawn's Dream Wine Club Membership
Dream Team Wine Club memberships make wonderful gifts. Your recipient will receive all the benefits of membership, including semi-annual wine shipments, wine discounts and complimentary tastings at our fabulous tasting room in Carmel. To create a membership, contact us directly at (831) 659-2649 or visit us at our tasting room.
Additioanl Gifts
We encourage you to visit our tasting room where we have a holiday selection of jewelry, Dawn's Dream logo retail items, wine themed gifts, clothing and more! Our tasting room is open everyday from 1-6 pm and Saturdays noon-6pm.
You know you want to
Sign Up Here...
to receive the latest news, information on new releases,
as well as special offers just for those on our list.
*We never share your information with anyone!